uk
/

ˈmuːn.ʃɒt

/
us
/

ˈmuːn.ʃɑːt

/
The contemporary definition of moonshot revolves around the idea of a goal which is difficult, or perhaps even impossible to achieve, but one which is pursued anyway. A moonshot can take many forms and be many things to many people, but it ultimately boils down to purpose and passion.

For most of 2020 and 2021, life felt
directionless
. Things were not bad per se, all things considered, but compared to the immense highs of 2019, I didn't have something which gave me driving purpose on waking in the morning. I had made significant investments in my professional development which were (and will) slowly pay off, but this couldn't satisfy the nagging desire to engage myself in something which tested both my physical and mental willpower.
My relationship with cycling has been largely tepid, that was until around March this year when I became more invested in it as a hobby. Investing in a bike and all the requisite kit meant that there was no turning back. Since then, I've accumulated a fair bit of mileage and thought it only right that I build towards something greater; a moonshot in which I could test myself through cycling. South Korea's extensive cycling network means that it is possible to ride all over the country, with the main route being from the capital of Seoul, situated towards the north, down to Busan, right in the south-east corner of the country. I had always flirted with the idea of doing this route but simply couldn't cobble together the time needed to complete it. Eventually, the chips fell just right and I managed to eke out four days to tackle this cross-country expedition. Although I wouldn't be going all the way from the starting point in Incheon to the finish point in Busan, I would still be covering 500km in the process.
To some, 500km over four days might not seem like all that much of a feat, but I call this a moonshot as I had only ever really done triple-digit cycling distances once before, and coming off a sweltering summer, hadn't done anything past around 80km at a single go. I didn't necessarily feel undercooked, I just knew that it would be a challenge to piece together four days of riding, back-to-back, without feeling absolutely shattered.
About a month in advance, I had carefully mapped out my route, the stops and where I planned on sleeping. I spent a fair bit of money on getting all the necessary kit and booked an early bus to Seoul where I would set off in the morning, with four consecutive days of riding on the cards.
In all honesty, the first day did not start out as planned. I had booked a 4am bus departing Gwangju, but having left home around 3.30am I knew that I wouldn't make it on time. I re-booked for a 5.30am bus, although this meant I would effectively be starting 1.5 hours later than expected, around 9am instead of 7.30am. Not a train smash, after arriving in Seoul I made my way down to Banpo Park – a short ride from the Express Bus Terminal.

Those first few minutes at the Banpo Park reminded me how in awe I was of Seoul the first time I visited. It's undeniable that Seoul has a pulsating big city energy, and seeing so many cyclists out and about on the trails made me feel like I was somewhere I
belonged
. It really was a case of small-town boy meets big city, and I admittedly like that the novelty hasn't quite worn off.
I set off along the trail and before long, found myself lost in the maze of cycling trails that weave throughout Seoul. At one point I found myself heading south into the heart of Gangnam rather than east and had to double back a few kms to get back on the trail. The Han River to my left, the Lotte Tower shrouded by mist and the colossal bridges made me feel minute in this heaving metropolis.
Before long, the mist had dissipated and the sun was out in full force. This being late summer, the heat wasn't too overwhelming, thankfully. The trail continued to be fairly flat and forgiving, and after about 35kms I rolled into Haman-si, a settlement on the outskirts of eastern Seoul. By now, it was starting to feel more countryside than city.

I had noticed that my rear saddle bag had started flopping over my rear wheel and was worried that it might cause an accident, so I sought out a Daiso for a quick fix. After unsuccessfully trying to 'jimmy' it with velcro, I managed to tighten the bag to the saddle with some shoelaces. Thank goodness for Daiso, because I would have been well-screwed if I continued. Rather embarrassingly, the bag had actually started rubbing against the rear wheel a short while before I fixed it, and unable to unclip in time, led to a slow sideways fall with a few eyes watching. I was okay and so was my bag, but a good few of my contents were strewn on the sidewalk and I was bleeding from my knee.

Thankfully that was to be my only gear failure for the entire trip. This was one of the things I was most worried about; being stuck in essentially the middle of nowhere with no support. I had of course packed in a basic puncture repair kit, but for issues like this bag failure, I was riding blind, as I hadn't ever used a bag like this in the past. I also knew that I was partly to blame for this incident as I had cheaped out on the bag, going for something less expensive rather than one of the reinforced premium bags. My rationale when it comes to these sorts of things is that I won't be doing bikepacking frequently enough to justify a huge outlay on expensive kit, so the economical options make more sense.

After sorting out my gear issues and dusting myself off at McDonalds in Haman, I set out again, venturing further east into the countryside and further along the Han River. I count this section as perhaps the most enjoyable part of my ride, as it had well and truly opened up into a more rural setting, but one that I wasn't too familiar with. The amount of dedicated cycling infrastructure was simply astonishing and everything felt purpose-built around cyclists, from the trails to the rest stops. The scenery was fantastic, and the spectacle of the mighty Han River never got old. The fairly flat course meant I could make up lost time thanks to my earlier pit stops. I passed through Yangpyeong, soaking in the mid-afternoon sun and taking in all the magnificent holiday homes along the river. At around 100km, I had finally made it to Yeoju with only about 20km left for the day. A short while later I crossed a signpost noting that I was now in Wonju, in the north-eastern province of Gangwon-do. At around 5pm, the temperatures became markedly cooler thanks to the deep valleys and the sun casting long shadows. This time of day became my favourite; not just because of the respite from the heat, but because everything seemed so much more vivid thanks to that late-summer glow.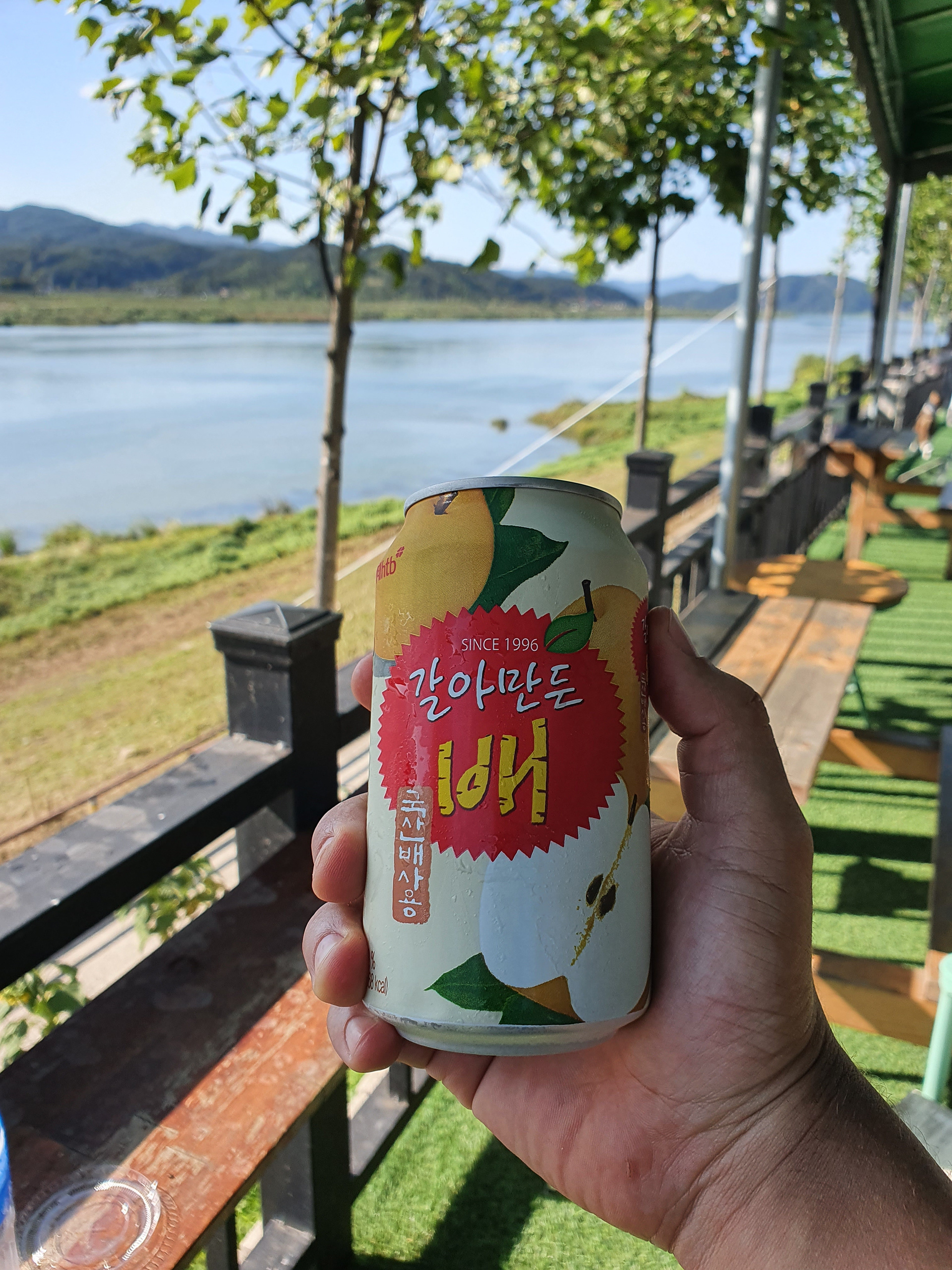 It must have been shortly after 6pm that I rolled into the small town of Buron, after 8 hours on the road and 120km of riding. I'd say this was more of a village, with perhaps only two main roads going in and out of the town. I had called ahead to the motel to book and made payment on arrival, grateful to have somewhere decent to sleep for the night. A refreshing shower and a change of clothes later, I set out to find dinner. This in itself was a challenge as I had planned on having some fairly simple Chinese, but said Chinese restaurant was closed. Setting about on the only main road running through the town, I came across a couple of establishments but nothing that really piqued my interest. Eventually I settled on 'galbitang', a beef short rib soup.
Day 1 of the Moonshot was, for all intents and purposes, a success. Despite an early gear failure and fall, I had made it on time to my first stop intact and unharmed.