One of the issues with using cellphones for cycling is that they usually end up running out of battery while out riding.
With the latest
iPhone 13 Mini
, Apple seems to improved the iPhone battery to a point where you could seriously consider using them as dedicated cycling computers. I decided to test this theory by taking my iPhone 13 Mini on a 5-hour ride while using my phone as I normally would – tracking my ride, capturing content, and occasionally using social media. Just how does the iPhone 13 Mini battery hold up as a cycling computer and could you forget about buying a dedicated trip computer like a Garmin or Wahoo? Read on to find out.
For context, I have never owned a dedicated bike trip computer, only a Suunto GPS watch which I have since retired as I got it back in 2013. It was reliable but not very elegant – it was chunky and often slow to locate satellites, but once locked on it worked pretty darn well. Since retiring that device, I used my previous smartphone; a Samsung S10e. This too was a great handset held back only by poor battery life, meaning that it was often less than ideal for long rides. The battery would usually last about 5, maybe 6 hours before giving up the ghost, and I would be able to squeeze a little more out of it depending how much I used it for taking videos/pictures.
Given that I was due for an upgrade, I was intent on getting an iPhone 13, I just wasn't sure which iPhone to get – the Mini or the regular iPhone. Lots had been made about the new iPhone batteries and on watching a YouTube battery test in which the iPhone 13 Mini demolished the previous regular iPhone 12 in the battery department, my mind was made up that the Mini was the handset for me.
Coming back to why I don't own a trip computer; quite simply, I'm poor. Okay – perhaps not poor, but more of a spendthrift. I know that Strava works perfectly fine on my phone and despite the battery struggles of my Samsung, I never found myself in a tight spot and always worked around it, either with a power bank or quick charging somewhere. For me, a trip computer is a redundant piece of technology not worth the $300 or so that I would need to purchase one.
After setting out with about 95% charge on the iPhone 13 Mini, we meander around the backroads of Boseong. This is proper backcountry Korea, with very little in the way of cars and more in the way of cattle and rice fields. We stop off at a dilapidated 'super' (Korean term for corner shop) for a quick drink and set off again, all the while me filming and taking pictures of our ride. The iPhone 13 Mini excels as a simple point-and-shoot creation tool. The native camera is quick and intuitive to use with very little fuss.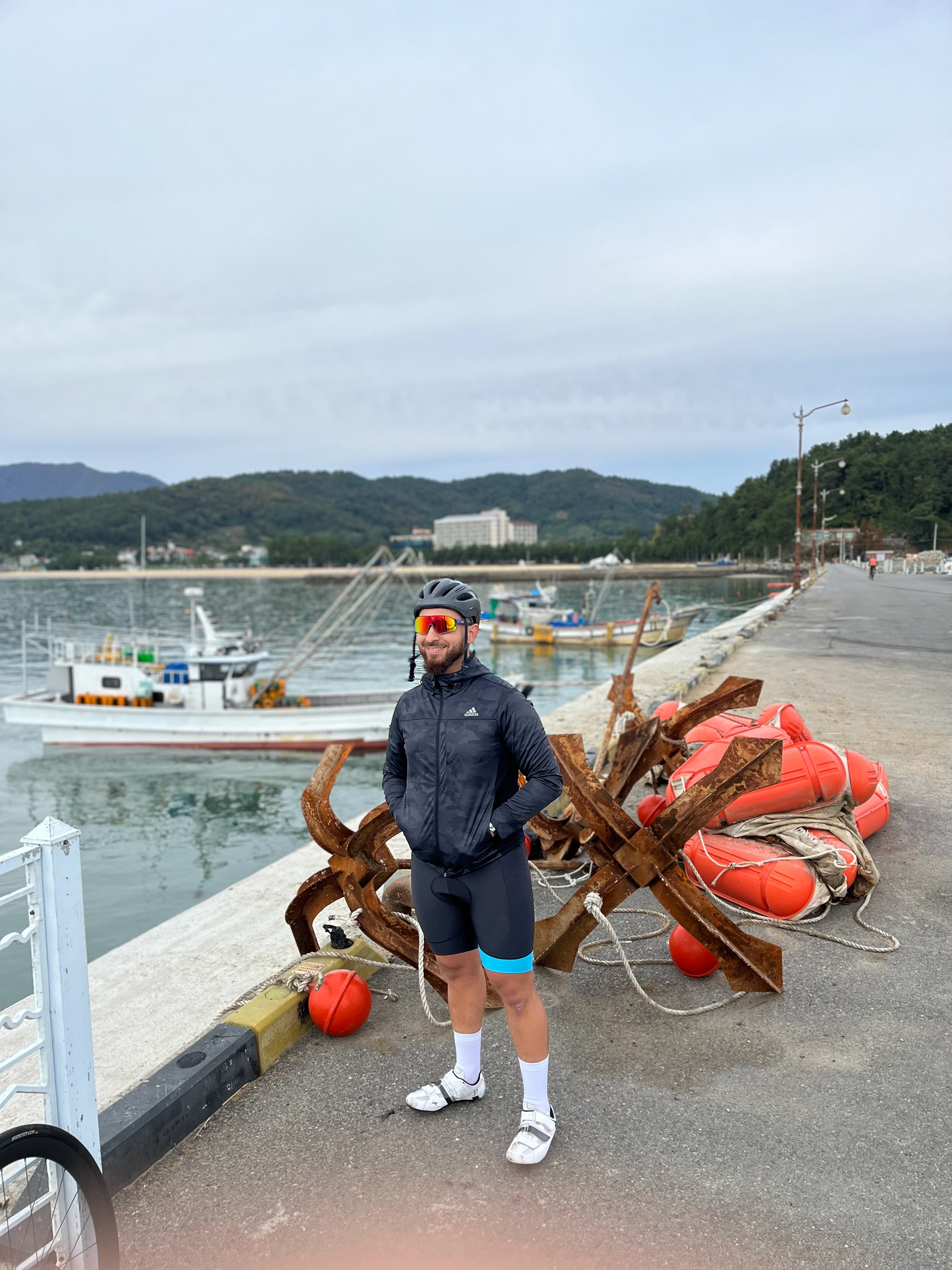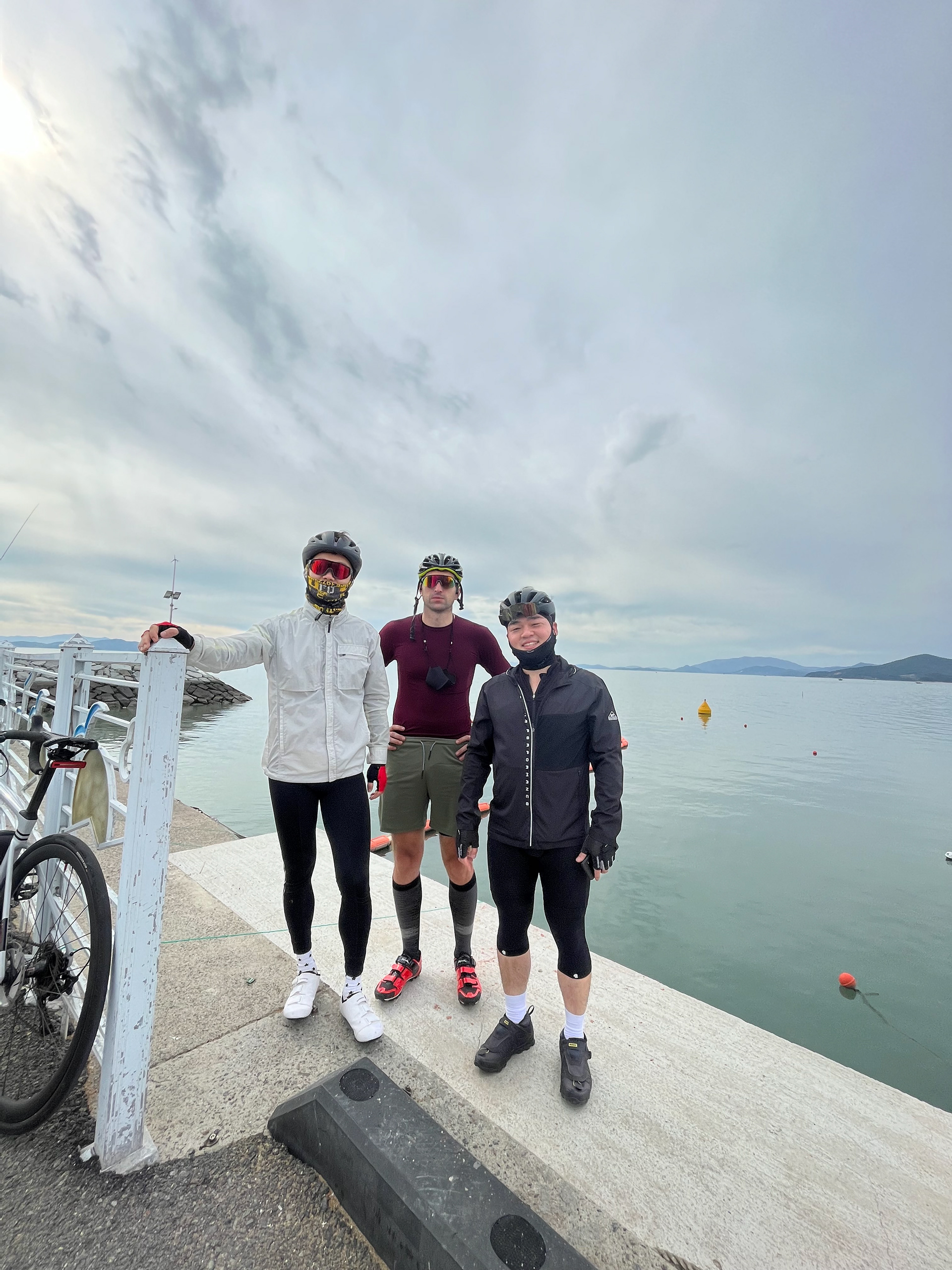 Our first real stop takes place at 40km along the serene coastline of Yulpo Beach. The battery reading is 75%, which surprises me as my Samsung would usually lose around one percent per km cycled, even with the GPS turned off. The iPhone, on the other hand, has the GPS turned on, screen brightness at 90% and has been used to shoot a fair amount of video and images.A few kms later and we find a spot for an early lunch of bbq pork belly and makgeolli, where I once again document the whole thing along with checking social media. Something I need to get better at is not checking my social media while out riding, especially with friends.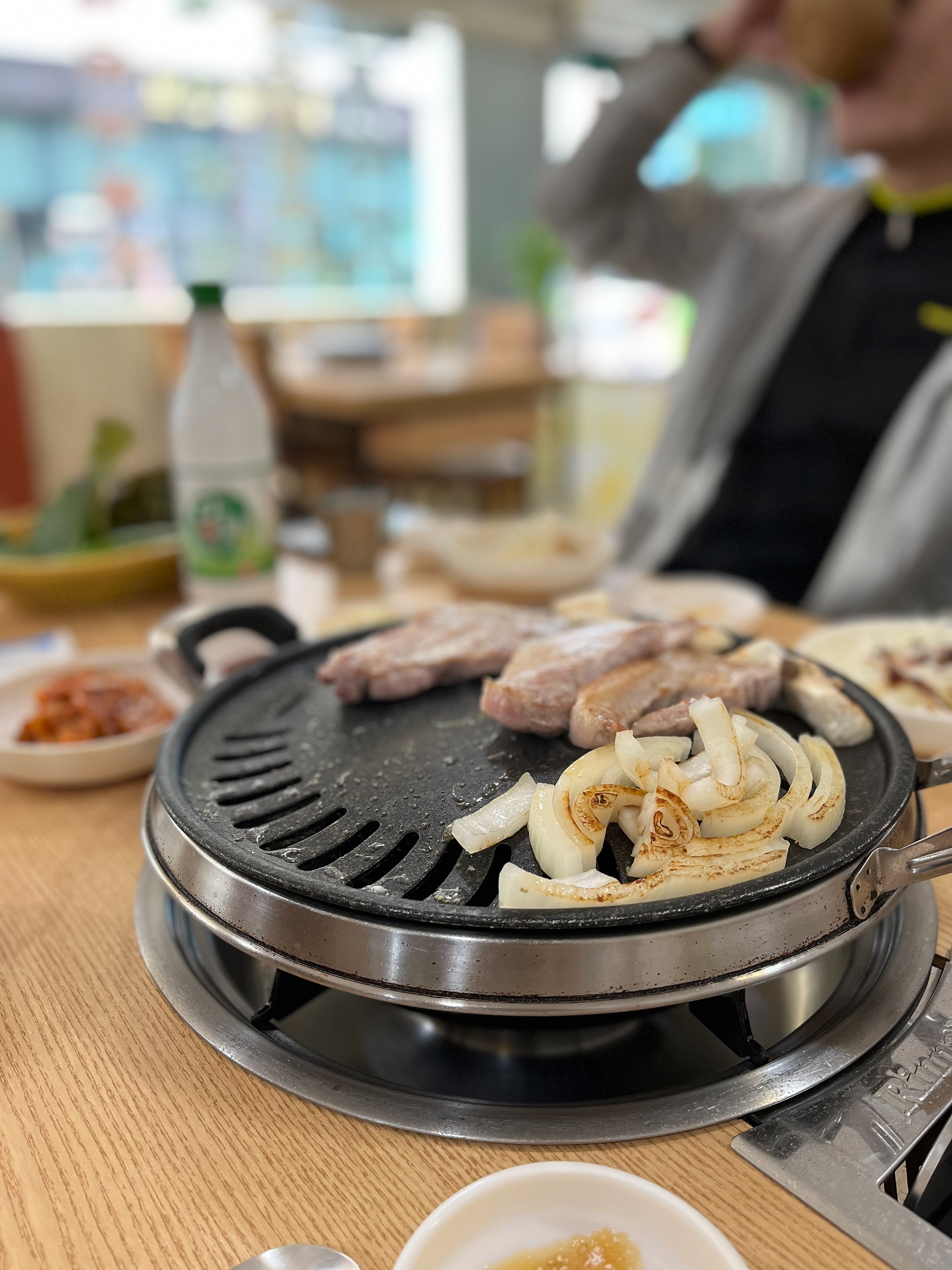 The heavy lunch slows us down quite a bit and instead of going the full initial 70km planned route, we shortcut it to around 60km. The final brutal climb also has a role to play here, and even though the mileage is not particularly long, I can feel the energy draining from my body as I try to process the delicious meal we had earlier. We make yet another pitstop at a stunning viewpoint of the Boseong Green Tea fields at around 50km where I find out that the battery is at 41%.
We arrive back at our start point, some 5 hours and 23 minutes after starting our ride. As I mention in the video, that feels like the longest 60km I've ever ridden and the elapsed time definitely makes it feel that way.

As for the iPhone 13 Mini, it puts in a stellar performance as a cycling computer, with 27% remaining. With that remaining capacity, I am confident that I could have gone another 40km if I turned the screen brightness down and turned GPS off – that's how good the performance was.
With all that said, would I recommend the iPhone 13 Mini as a trip computer? Wholeheartedly – this recommendation might be coloured by the fact that I am somewhat 'anti' trip computers, but it simply makes more sense to me to carry one device which can do everything without having to sacrifice battery performance.