Summer in Korea is difficult to put your finger on. It's an intense, disorientating heat that slaps you square across the face if you aren't prepared for it.
And summer in Seoul, the capital of South Korea, is no different from anywhere else in the country.
To be honest, I'd felt starved of a true big city experience since moving to South Korea. Nothing and nowhere matched the scale and size of my hometown of Johannesburg, and I missed the energy that came with a large metropolis. Sure, Gwangju is a great day trip and getaway, and Busan has the beach, but I'd hardly spent enough time in either city to really immerse myself in the buzz of it all.
To add to the anticipation, I'd just come off two and a half weeks of teaching summer camp, parts of which were mind-numbingly boring.
So, with my bus ticket booked and excitement levels high, I left Wando on Thursday morning, aiming to get to Seoul by the afternoon and checking in to my Airbnb by the late afternoon. The bus ride was a scheduled 5 hours, so I made myself comfortable in the reclining leather bus seat and proceeded to watch the ninth season of The Office…
There are a few different ways to get to Seoul, but bus is the most direct. The great thing about going by bus is that unlike the Busan haul, the Seoul bus is an express bus that goes all the way through with two rest stops en route.
The other option for getting to the capital from the south of the country include taking a KTX train from Mokpo, or, if you want to get there in a hurry, bussing to Gwangju and then taking an earlier bus from there.
It never ceases to amaze me how timeous bus drivers are in South Korea. As a people, they may have a reputation for being late, but on both the departing and return leg, the drivers came in almost exactly within their allotted five hours driving time. Remarkable.
Back to Seoul. I'd already plotted out the subway route from the Express Bus Terminal to my Airbnb located near a local university on the east of the city. But before I could do that, I needed to find an elusive T-Money card and load it up with credit. Travelling tip: Generally, the eMarts closest to the subway will have them, meaning you have to go underground and find an eMart there to get one. This was the probably the most difficult part of the process; re-loading the card with credit is dead simple and instructions are in English.
This was the first thing that astounded me about the city, is how simple it is to cover extensive amounts of ground just by using the subway. And for dirt cheap, too. A single trip is KRW1250, equivalent to about $1.25 and R15. As for getting lost – it's quite honestly one of the most idiot-proof inventions ever created. If you've ever been lost on the Seoul subway then you need to put yourself up for the Darwin Award. I'm a complete noob to the subway system and somehow managed to use it without catching the wrong train once.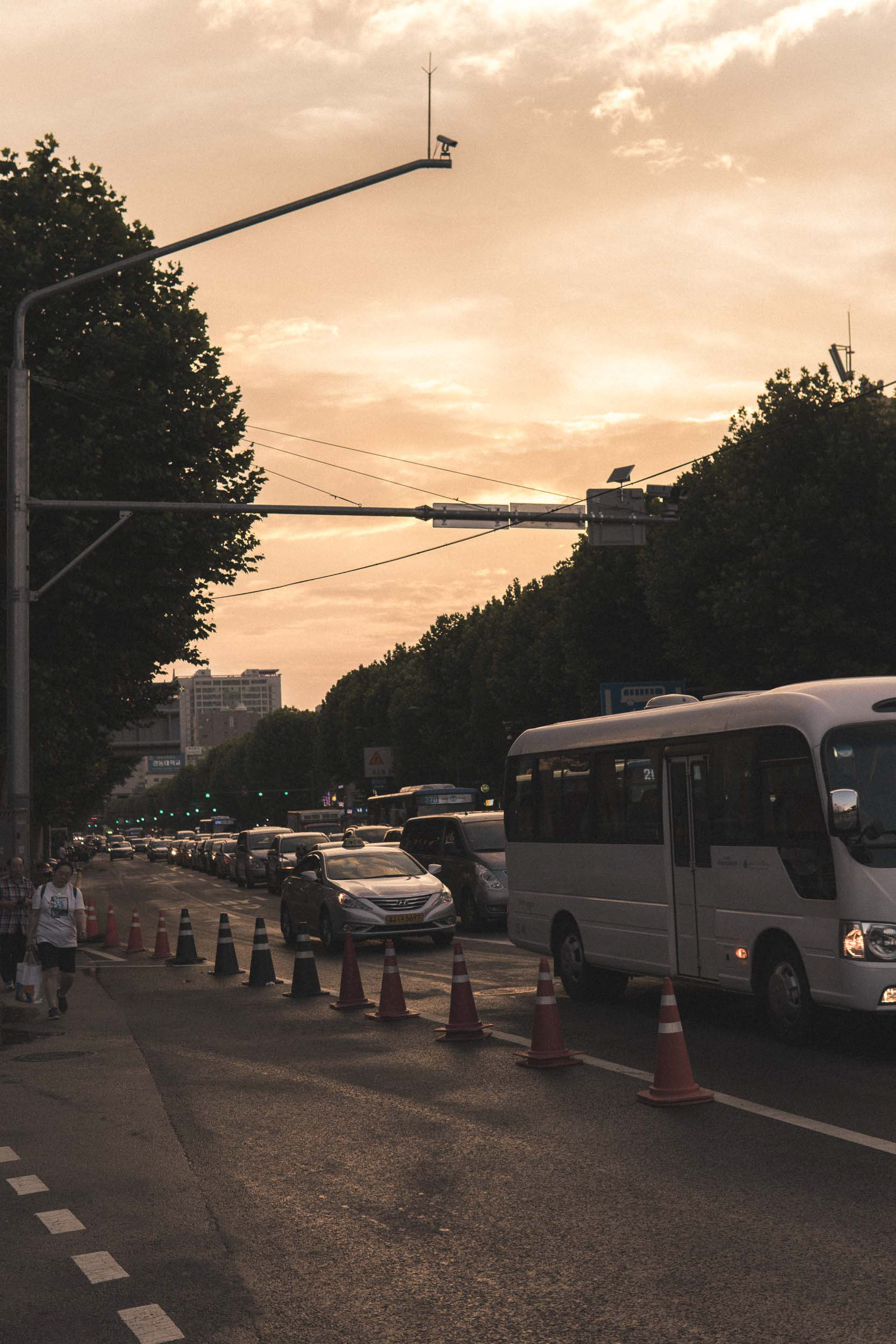 At around 6pm, having checked in and unpacked, I decide to make a mission to nearby Dongdaemun to walk around and soak in my first few hours of the city. The sunset is vivid shades of deep, burnt oranges and reds with some stunning cloud action to boot. I'm in awe at both the sunset and the landmarks, as I try to lift my jaw from the floor. This is my first taste of Seoul and I'm struggling to find the superlatives to describe it.
After missioning around, shooting and finding a smoothie bar, I head to the foreigner district, Itaewon. With time on my side, this visit is more out of curiosity than actual purpose.
Korean heat is unlike anything I've ever experienced. It hangs thick on you like a wet blanket and refuses to provide any respite.Despite this, I soldier on through the streets of Itaewon, in awe at all the hideaways and eateries that line the streets. Their aesthetic is far removed from the glaring neon of a typical downtown district. Instead, it's much more discreet and homely – at least from the outside. I pass a café called Elevenses, and I'm taken back to childhood memories of playing in my Grandmother's house during holidays., Without fail, she would have tea at 11am every morning.
For a Thursday night, the streets seem eerily quiet, but I've no doubt that somewhere, there is a Thursday party going down.
I make a point of stopping at a South African institution, Braai Republic, for a taste of home. After my nightcap, I head back to my Airbnb using the subway.
It's only been my first few hours in this Korean mega-city, but already I'm struck by a few things, like the considered aesthetic of the different suburbs, the overwhelming number of shopping outlets, but most of all, the public transport system. Seamless and efficient. It shuttles a heaving mass of citizens around without showing any strain or wear. It's a thing of beauty and a model for cities across the globe.