Try as I may, there are days when I find it impossible to distill the essence of a place, a location, a destination, into nothing more than characters on a screen.
Pictures do a much better job of conveying the spirit of a place, but even then, they function so much better when accompanied by prose. It's the reason why I sometimes sit on travelogues for weeks before uploading them here. I've had a tough time putting into words the final leg of this Japan travelogue. Anyone can spout off some superlatives and throw an itinerary together. That's easy. What's really tough is writing an earnest, honest, and fully convincing travel story that compels people to experience a place for themselves; regardless of whether you've had a good or bad experience. Japan was everything I'd hoped for and more, so much so that I intend on moving there next year. But at this point in time I will do my best to round out this final chapter of travel for 2019 with a recollection of my last few days in Osaka and Kyoto.
After my late night flight into Osaka the previous night, I spent the evening at guesthouse by the name of
Blend Inn.
This art-focused hostel is something of an architectural enigma, conceived by renowned Japanese designer, Yo Shimada. After a coffee and an interview with the staff for a commissioned article for
Tripzilla
, I stepped out into the
Nishikujo
streets and made my way for next stop; Sekai Hotel in Fuse.
Given that I was so early to my next guesthouse, I dropped off my bags and missioned to the
Osaka Castle
. A stroll around the castle grounds didn't reveal all that much except a tranquil place to eat more matcha ice cream and take in views of one of Japan's most famous landmarks. Replete with the type of traditional moat that you learn about growing up as a kid, the Castle covers about 15 acres of land. Although the Castle has been damaged over the years, it has been restored to its original 16th century creation.
After Osaka Castle I headed over to
Dotonbori
and chose to rent a bike from a friendly gentleman around the
Uemachi
area. Given the amount of distance I wanted to cover, I figured renting a bicycle would keep my legs fresh by not walking. As I've mentioned before, bikes are ubiquitous in Osaka and it's a pleasure to ride in these cities. Not once did I feel endangered in any way, despite everyone going about their business. I also got to see infinitely more of Osaka by simply riding one single 5km stretch of road than I would have if I took the subway or a taxi. The intimate alleyways, the dimly lit streets, the figures hovering in the shadows; all of these make for such rich travel memories and give you a feel for a city.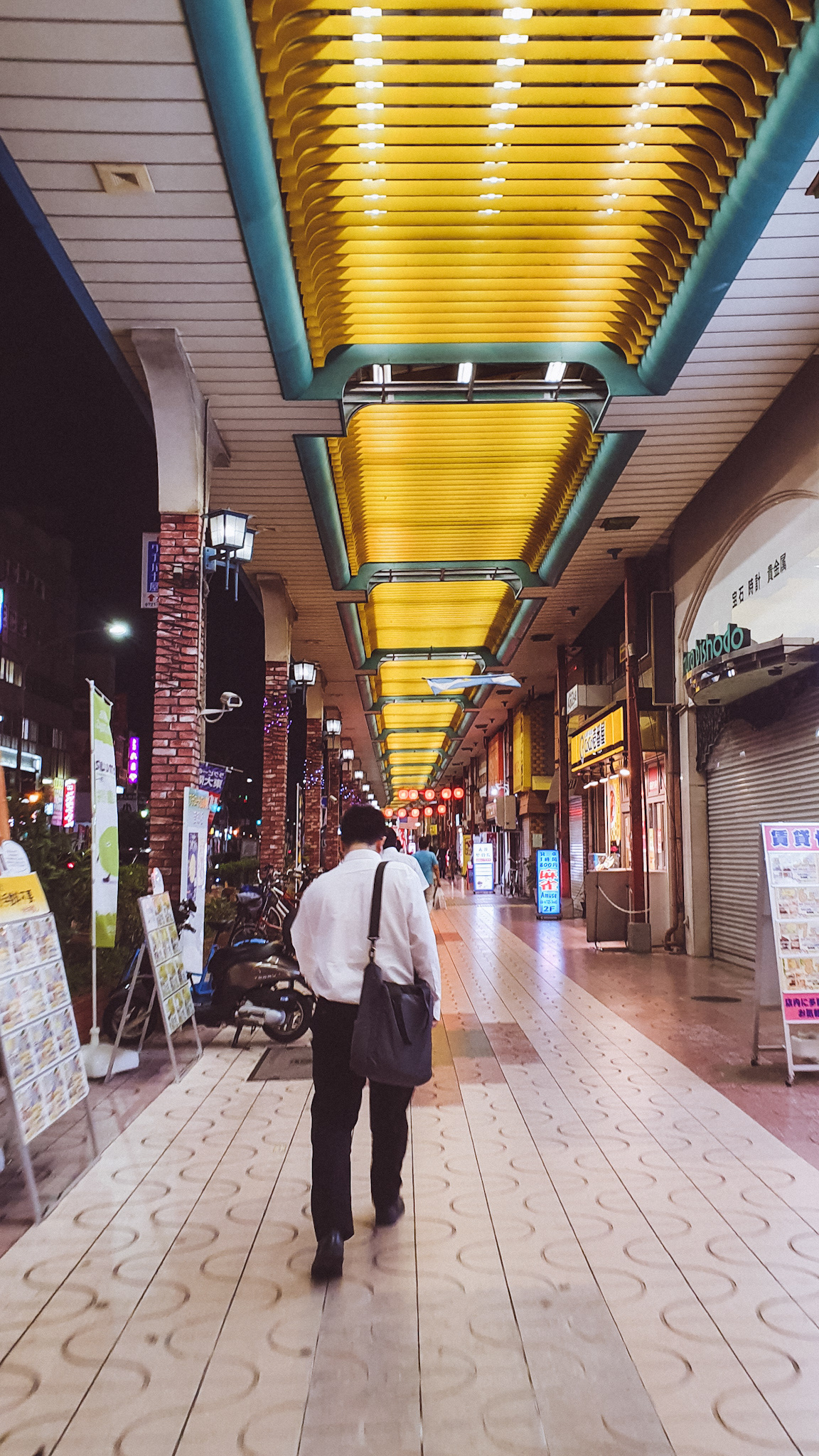 Collecting my rented bike from the nearby parking lot (yes, they have public bicycle parking lots in Osaka, imagine that), I set off to drop it off and head through to
Kyoto
for the day. Fortunately the Fuse station is situated on the Kintetsu line which means it's relatively easy to get to the Kyoto part of Kansai. I didn't bother with the Kansai Pass as I wasn't sure if I would get full value by using it, but it is definitely worth checking out if you want to jump around the province over a few days.
Once in Kyoto I decided to do exactly what I'd done in Osaka; rent a trusty two-wheeled steed. This seemed like a good idea but failed for a couple of reasons. Firstly, unlike Osaka where I had a pretty decent lay of the land after a few days there, I was fresh to Kyoto. I didn't know my arse from my elbow and had to check my phone for directions every two seconds. Secondly, Kyoto is way bigger than I imagined it to be. I had planned to use the bike to get to points of interest like
Arashiyama Bamboo Forest
, Inari Shrine and various other places, only to find that these landmarks are nowhere near each other. Huge mistake. I eventually managed to get to Arashiyama looking tired and haggard from cycling up and down the Kyoto side streets. Because of this, I missed out on seeing Inari Shrine purely because I had to get the bike back to the shop by 6pm.
What I did manage to see, however, was the
Kyoto Station
– a colossal architectural transit hub (supposedly the largest in Japan). Taking in the views from the top, you can see that Kyoto is more city than town. This doesn't detract from its charm, however, and apart from the insatiably endearing side streets, the
Nishiki Market
is another place where you can experience that signature Kyoto charm. A typical
shotengai
with many of the outlets you'd expect to find elsewhere, but with a more quaint feel to it. It's tough to quantify, but the 'downtown' area of Kyoto felt like the perfect blend of modern and traditional, almost like a counterpoint to the uber-modern Tokyo and hedonistic Osaka.
After dropping my bike off later that evening, I headed to
Ponchoto Alley
; an atmospheric pathway running parallel to the
Kamogawa River
. The bars here only fit a handful of people and the restaurants are more confined than intimate. The dim glow of the lamps spills out on to the tiled paving and you're presented with a wide range of culinary choices. I spent about 30 minutes shooting here before calling it a day and catching the train back to Osaka. Despite some poor decisions this was still a day of bucket list experiences, and for that I'm grateful.
Walking around the
Fuse
area reminded me a lot of my little town in South Korea. The narrow alleyways and decrepit residents knocking on death's door was a stark reminder that East Asian societies are ageing more rapidly than anywhere else in the world. Japan in particular is said to be doomed if birth rates don't increase in the next few years, as there won't be enough young people to support the elderly through taxes.
My host at Sekai Hotel took me out for breakfast at an old-school diner in the district. Their angle is authenticity amongst the ordinary, and I have to say that it was so intriguing to be based here for a few days and soaking up something that was atypical of the ultra-modern Japan experience. The hotel itself, however, is very contemporary – think a distinctly minimalist chic aesthetic, with dark, muted tones and ambience in spades.

It was also quite gloomy, as
Typhoon Hagibis
had started to near the eastern Japanese coastline, albeit a bit further north. Fortunately, the Kansai region didn't see much typhoon damage save for a little bit of rain which I braved to see yet another bucket list attraction; the
Nara Deer Park
. Going only about 40 minutes east of Osaka (or at least Fuse), the Nara Deer Park was once again, a place which I'd heard and seen so much about, and despite the inclement weather I was intent on seeing this attraction with my own two.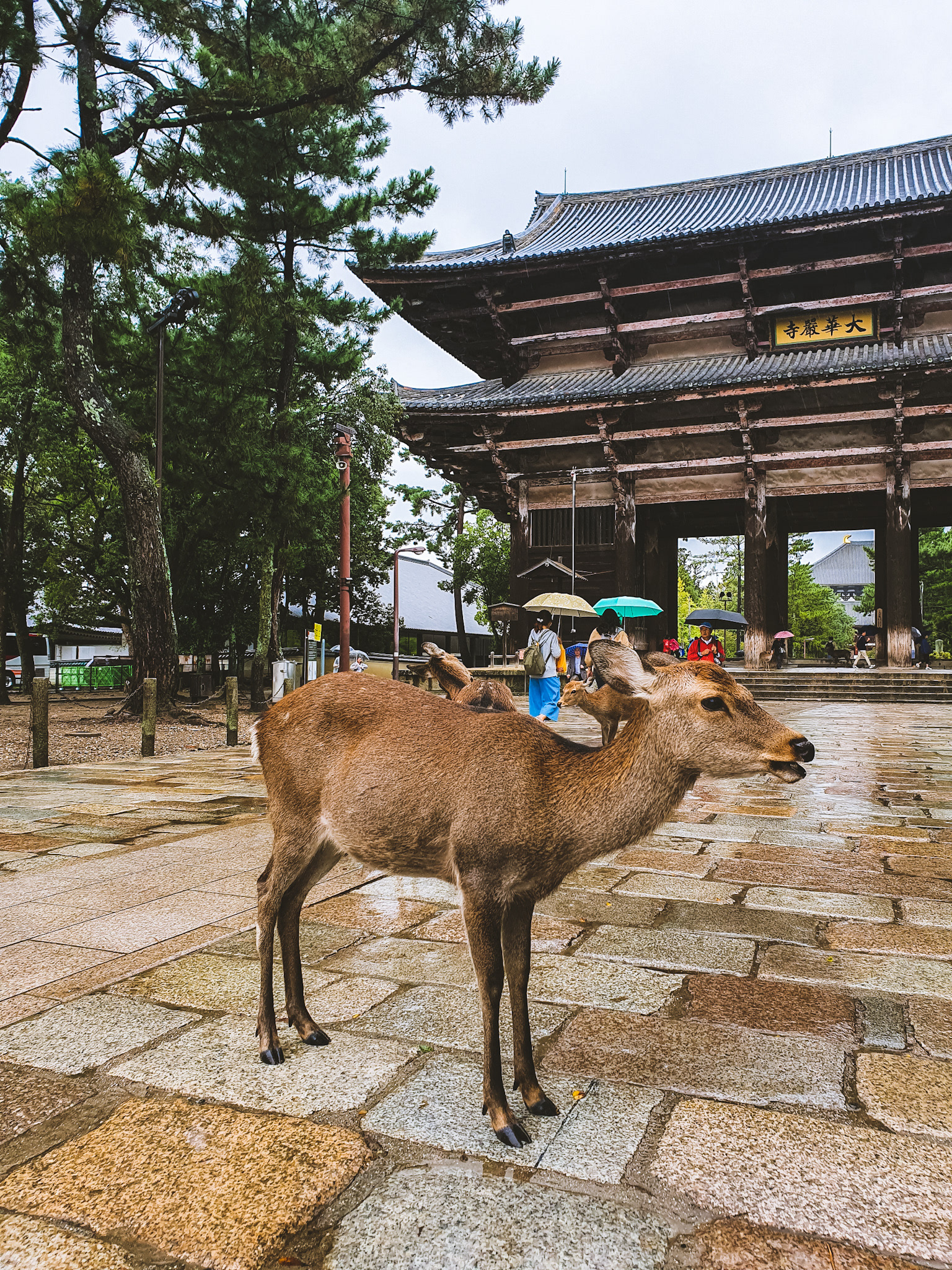 After seeing these doe-eyed creatures, I was stuck with a bit of a dilemma. Do I head back to Osaka or take a chance and go to Fushimi Inari Shrine? I chose the latter, and I wasn't at all disappointed. The sheer scale of the Inari Shrine is much larger than I'd imagined; the steps snaking a good 800m up into the Kyoto forests. The sparse crowds, heavy mist and driving rain added a very eerie aura to the forest. There were more tourists here than Nara, but I can only imagine how busy this would be on a clear day.

From Kyoto I caught a train back to Osaka and stopped at Keihan Mall for a quick bite to eat. From there I took another train to
Shinsaibashi
in Osaka where I moseyed around the shopping district for a few souvenirs. As has become something of a custom this year, I acquired some Japanese sweets for my close colleagues and a t-shirt for myself.
Mercifully the rain had let up and all that was left was the light shimmer of neon reflections on the Dotonbori streets. I took the opportunity to take a slow walk back to the Namba station where I'd catch a train back to Fuse for my final night.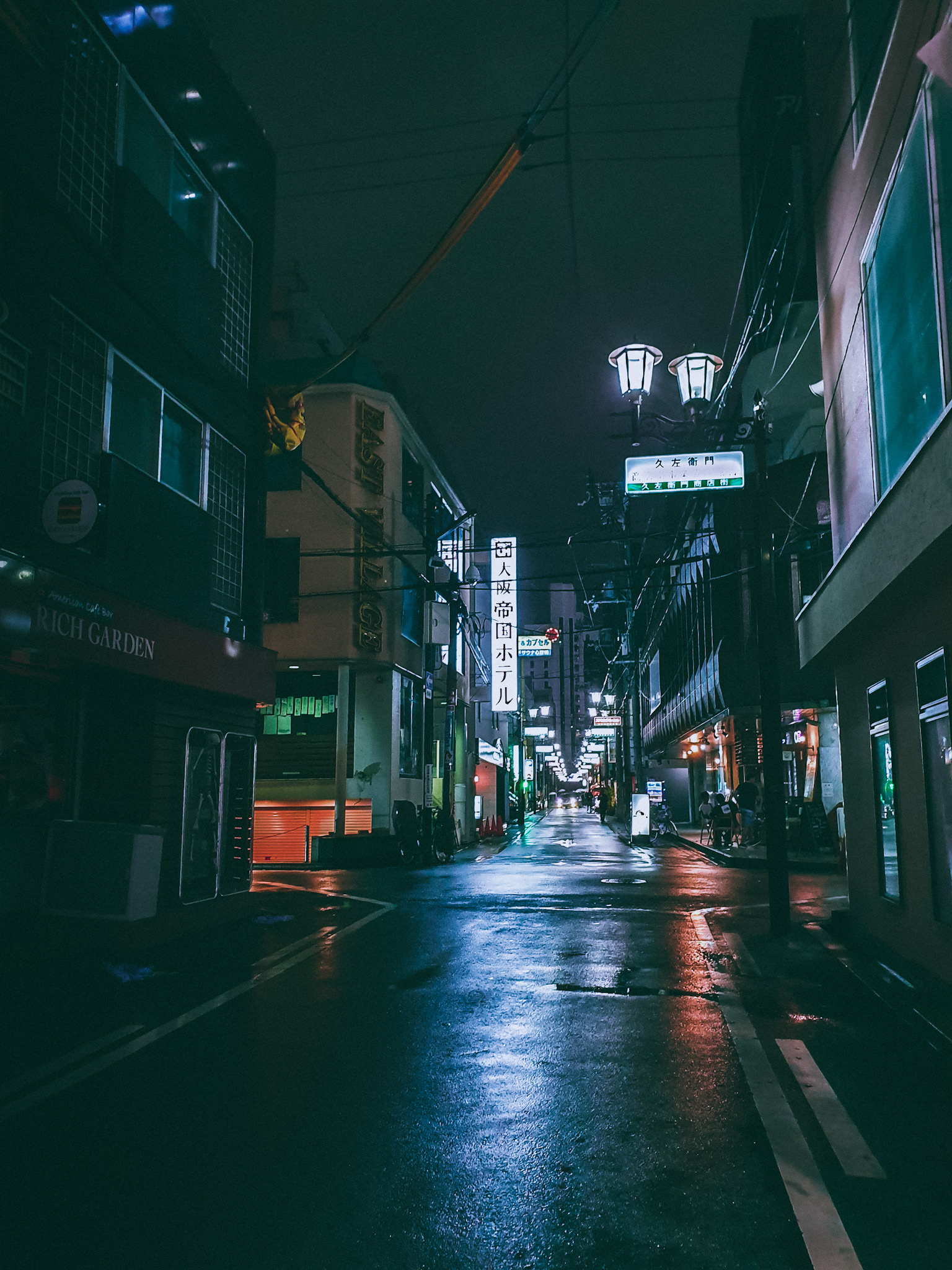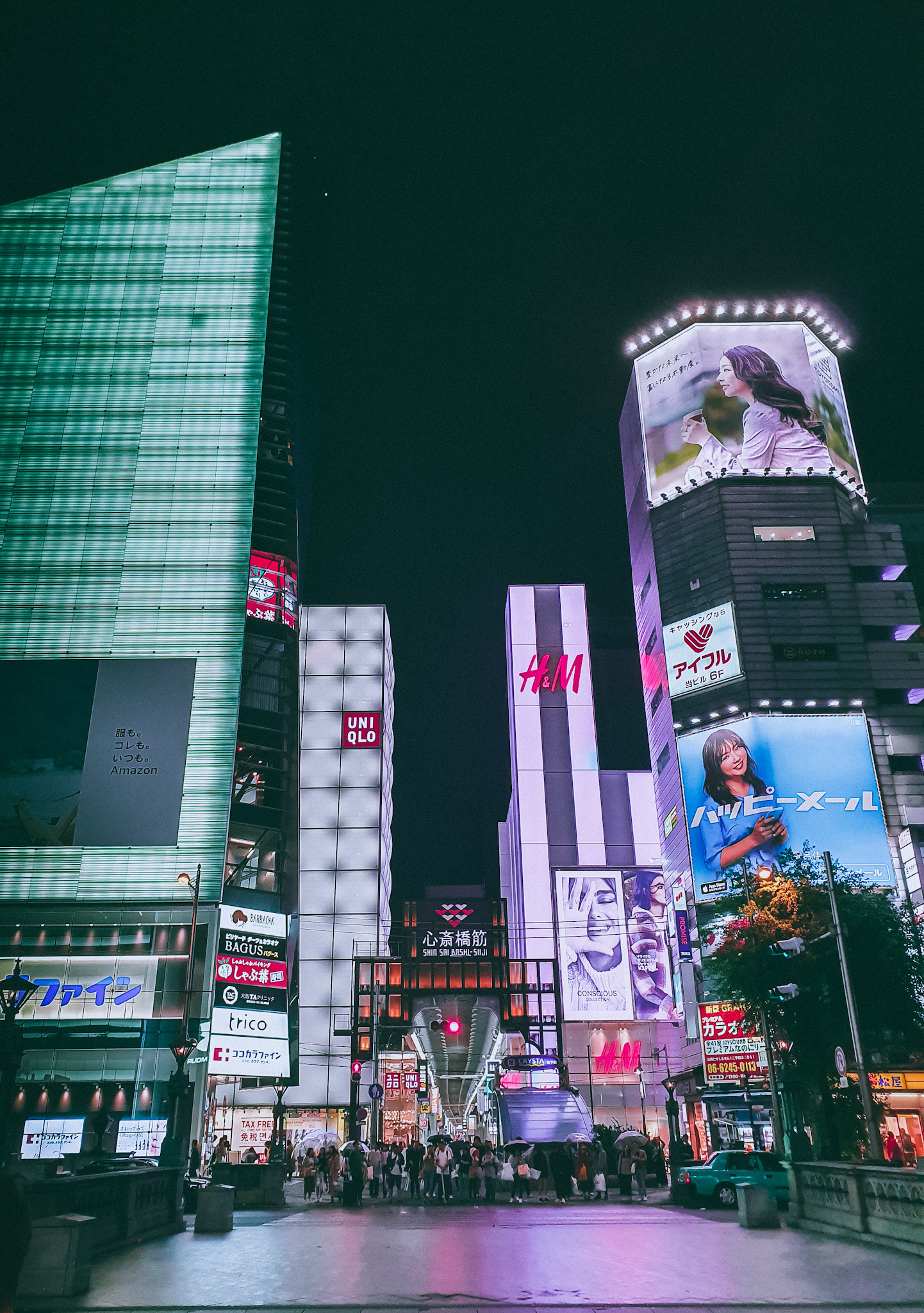 High clouds still lingered on departure day, an aftertaste of the typhoon that was busy ravaging the central reaches of the country. Despite this, it was windless in Osaka and an easy trip to Namba Station where I would catch the airport train. I made the check-in with just a few minutes to spare (truth be told, I had misread the train schedule – it happens) but made my (rather empty) flight back to Muan without any issues.
Taxiing out of Terminal 2 at Kansai Airport I was left with a few final thoughts. Japan as a whole wasn't as ostentatious as I'd expected it to be. Instead it was orderly and composed. And somehow, I felt drawn to that. While it has pockets of big, brash flamboyance, life here is largely done according to rules. And while Korea – for the most part – has a similar outlook, I can't help but feel that it lacks a certain finesse when compared to Japan.
As I mentioned in the first instalment of this series, there's a certain romanticism around Japan as a travel destination. I'm so glad I got to experience this magical country and hope to experience it again soon, hopefully sooner rather than later. Stay tuned.

If you enjoyed this article, sign up for monthly updates as I post travelogues about my trips throughout East and South East Asia, along with videos around street and travel photography.