Bucket list:
"A number of experiences or achievements that a person hopes to have or accomplish during their lifetime."

2019 has turned out to be a prodigious travel year, at least by personal standards. It's been a year full of growth, discovery and adaptation. Adapting to life in rural South Korea, adapting to life in Asia and thinking about what comes once I'm done here.
Although only a mere two hours' flight from South Korea, Japan always seemed out of reach. You see, holding a South African passport puts me at a distinct disadvantage compared to my counterparts from the US and the UK, who can simply waltz in and out of the country as they please. For us citizens of SA, the Japanese visa requirements border on the ridiculous, and so it took a fair bit of planning to make this trip materialise. This trip had been in the works since around May this year, and so anticipation was heightened, more than usual. It took a jot of travel planning to get from Wando to Muan. Departing Wando on Tuesday night, I shacked up at a guesthouse in Gwangju overnight before taking a bus bound for Muan Airport early the next morning.

For three days I would be in Osaka before a quick stopover in Shizuoka for a Rugby World Cup match and then onwards to Tokyo for five days. Once done in Tokyo, the plan was to fly to Osaka where I would see out my time in Japan's second-biggest city before heading back to South Korea.

A gloomy and grey Osaka awaited as disembarked at Kansai. For all my experience with transit systems, I was still slightly overwhelmed by the extensive Japan rail network. Trust me when I say that it can very confusing, very quickly. I knew that I needed a Nankai Rail ticket to get from Kansai to Namba, the nearest station to my accommodation for the evening. Fortunately the booths are well-marked when you enter Terminal 1 at Kansai Airport. From there, it was a 45-minute ride into town on the Nankai Line, although there were other options available, such as the Rapid Express.
For my first night here I would be staying at a capsule hotel in the nightlife district of Dotonbori. Given that it was only around 12pm, I left my bags at the hotel and moseyed around the Namba, Shinsaibashi and Dotonbori areas. I also made a point of getting a SIM card at the BIC Camera in Namba. For the uninitiated, BIC Camera stores don't just sell cameras, they sell almost everything. While their focus might be on electronics, they're essentially multi-storey department stores that can be found in many cities around Japan.

Slowly working my way through the "start-up" list that comes with most trips, my next mission was sustenance. Restos are a dime-a-dozen in the Shinsaibashi district, so I found one that looked suitably local and pulled up a stool. At this point I was pretty haggard from trekking up and down the Osaka alleyways, so this was a good chance to rest my legs for a few minutes.

Once I'd devoured some signature Osaka takoyaki, I headed over to the America Mura district; an area known for its offbeat thrift stores, an abundance of streetwear brands, hipster aesthetic and most importantly, a mini replica of the Statue of Liberty. I happened upon a pancake shop by the name of Gram. At the time, little did I know that this was a world-famous chain serving the famous fluffy Japanese pancakes. The pancakes come with a variety of toppings to choose from, or you can just order the 'regular' version which comes with whipped cream and syrup. The beauty of these unique creations isn't so much in the taste (which, all told, is actually quite bland) but more the texture. It's at once light and fluffy while melting in your mouth on first bite. It pairs perfectly with the whipped cream and syrup; anything more feels like overkill. Highly filling and strangely addictive.

At this point I was absolutely knackered from all the time on my feet, but I knew that I had one more thing to do before the sun went down on my first day in Osaka. Pulling up Google Maps, I quickly searched the quickest way to get to the Umeda Sky Building. The big attraction here is the Floating Garden Observatory, a perfect spot to take in the Osaka skyline from 170m up. After spending about an hour on the observation deck, it was a short hop back to Dotonbori where I settled in for the evening in my capsule, exhausted but content with what I'd accomplished on a rather rewarding travel day.

Day 2 in Osaka would be far more relaxed than the first. Having had a decent night's sleep in the capsule, I took a walk once more around the streets surrounding Dotonbori. Compared to the busy-ness of Korea, this part of Japan seemed eerily quiet – no hooters, loud cars or people yelling out to each other. Using Google Maps would become a regular occurrence throughout this trip, and today was no different. I missioned over to the district of Shinsekai to get some shots of the Tsutenkaku Tower; a distinctive Osaka landmark. The streets here were just as quiet, but the visually overpowering facades of the establishments made a statement of their own.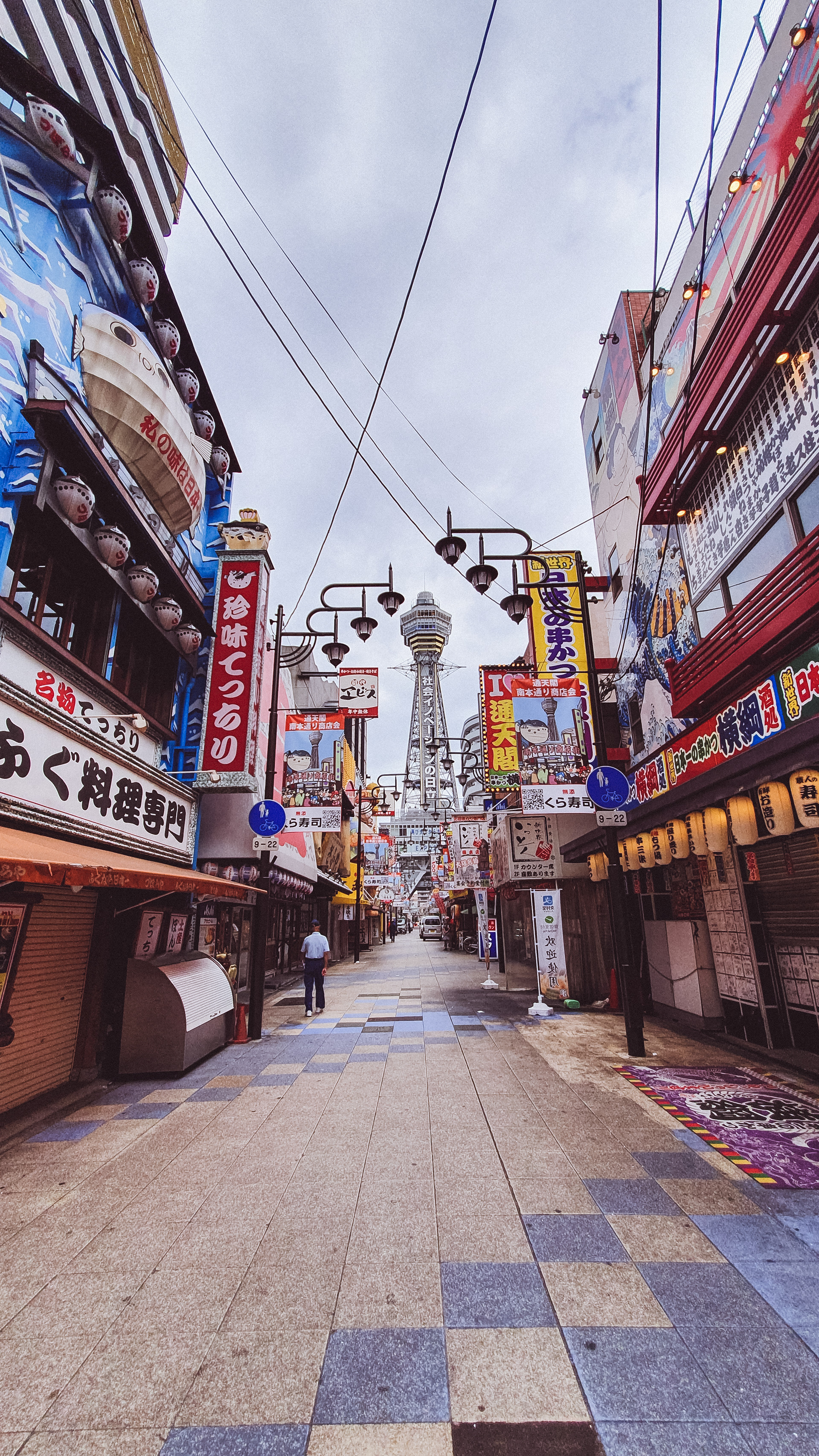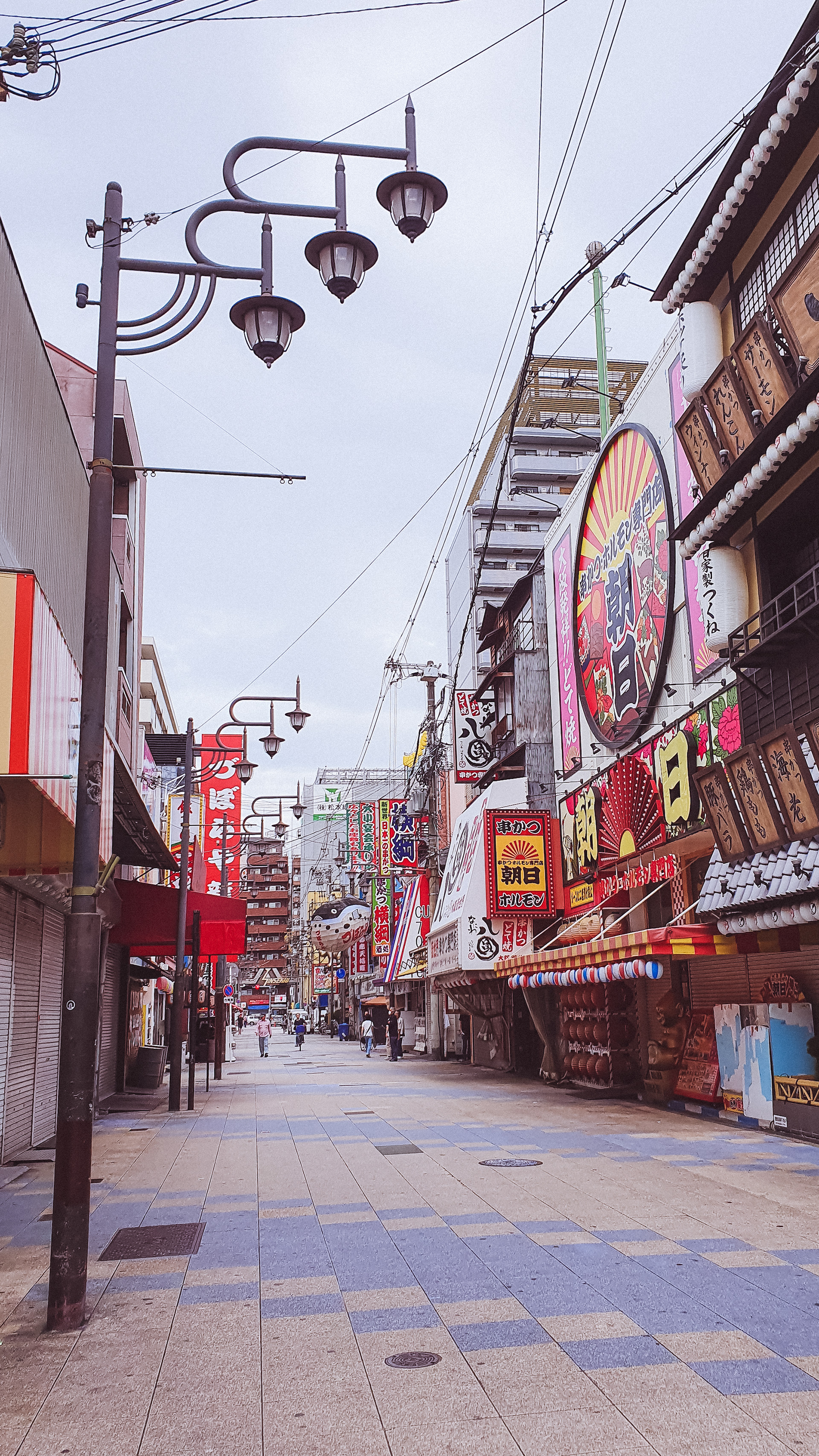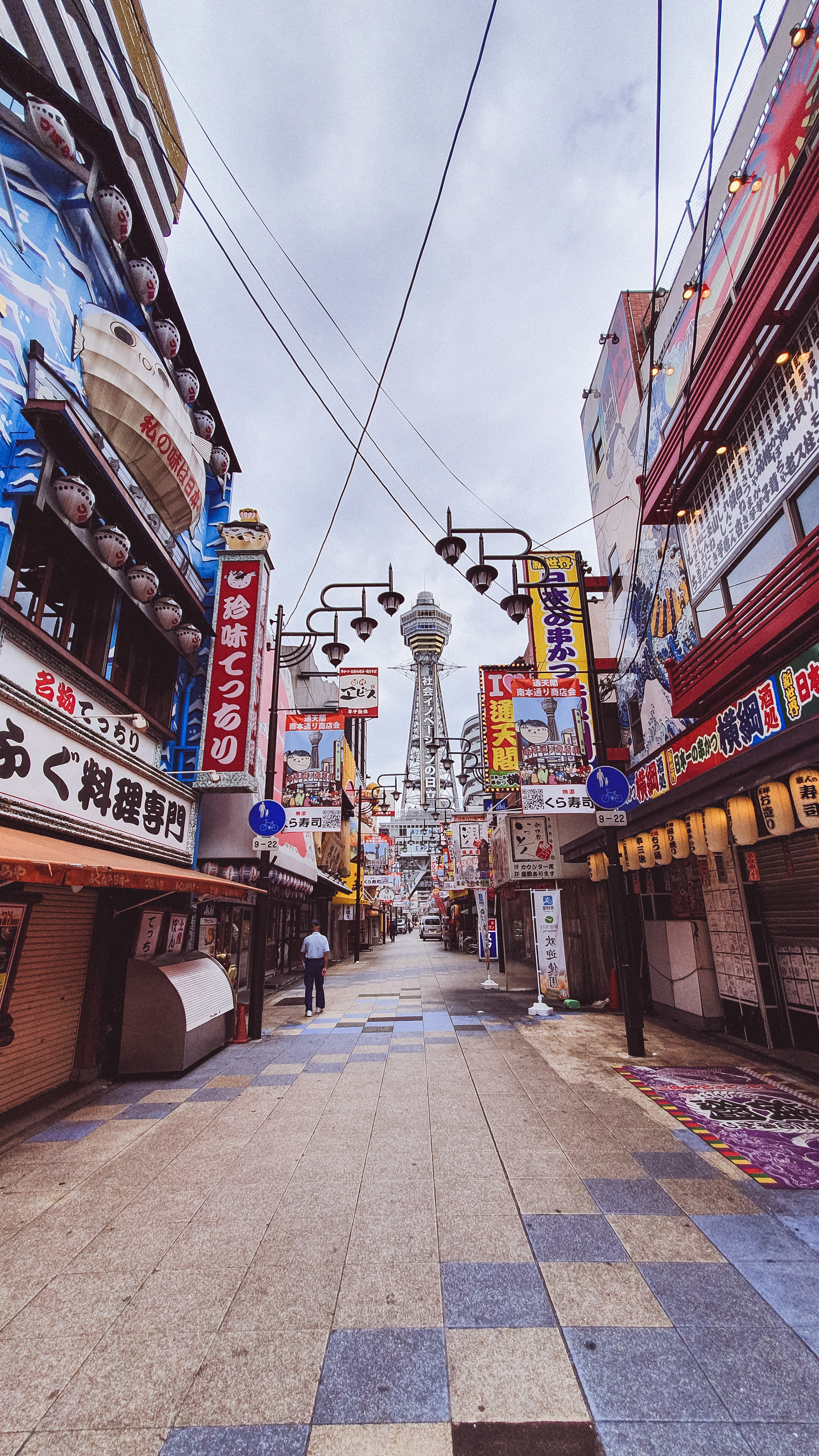 There's not much to be said for the rest of the day besides checking in at my next hotel; Ryokan Hanare. Compared to the capsule, this hotel was a more traditional Japanese style of lodging. Pretty compact but still comfortable, our unit here slept four people in comfort with a private bathroom.

A gorgeous crisp morning greeted us on our final day in Osaka. Walking through Ueno Ward, today would be perhaps my most logistically demanding yet. Along with my two travel compatriots, we would need to get to Universal Studios by 9am and leave just before 2pm in order to catch a Shinkansen to Hammatsu. We would then need to check in at our hotel before catching another train to Shizuoka in order to watch the Springboks take on Italy in their Rugby World Cup pool encounter. All of these connecting trains left very little margin for error, and in turn meant that I found myself obsessively checking my watch, worried about time running out and missing our transit.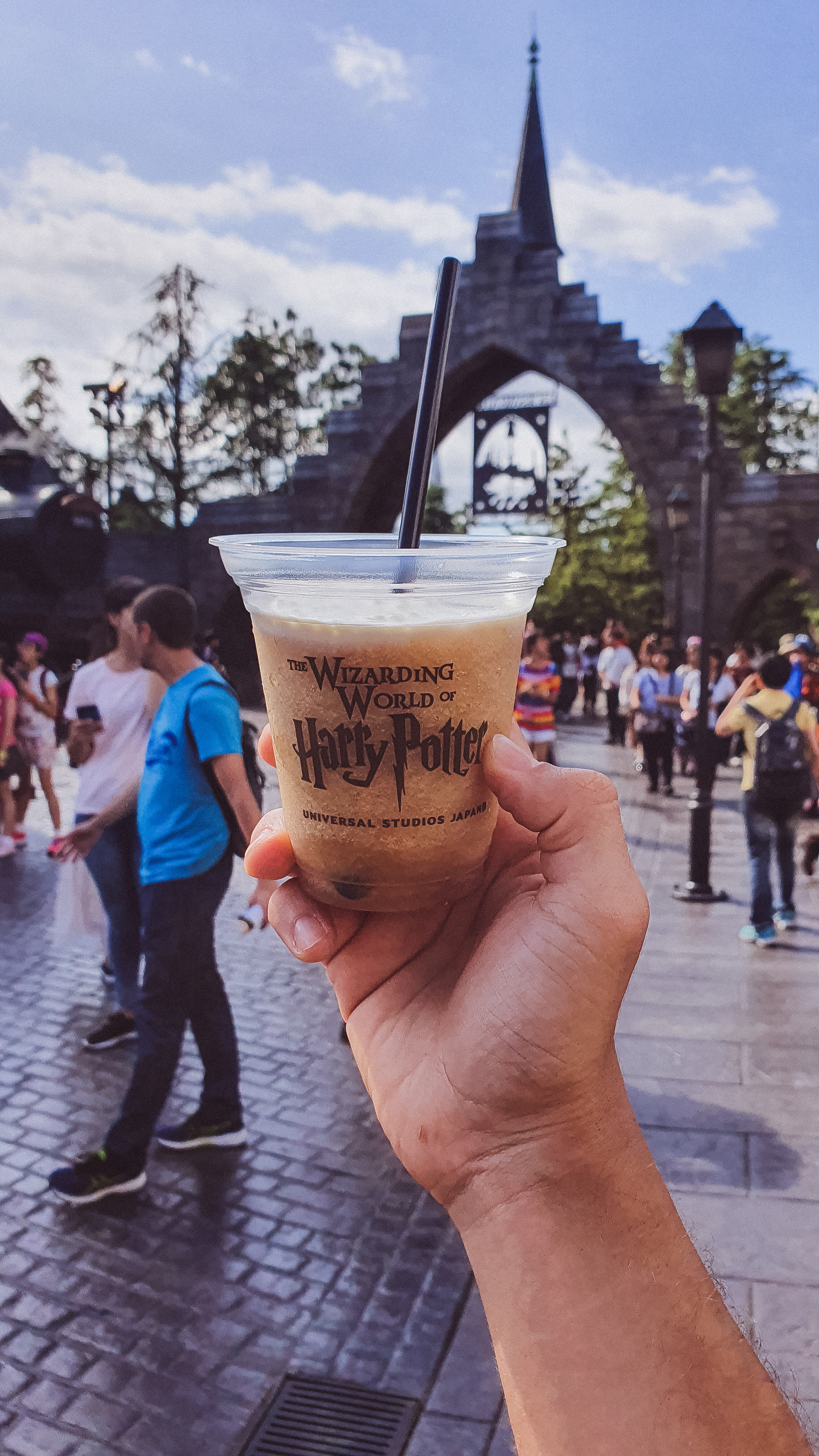 Alright, let's get a few things out of the way here.
I am certainly not the biggest movie fan, nor do I care much for theme parks. Universal Studios didn't move me much, but was more one of those group travel compromises that you make in order to accommodate everyone else. Had I been solo, it is unlikely that I would have paid JPY7400 and waited 3 hours in line for a mere two rides (yes, you read that right – JPY7400 and 3 hours for TWO rides). Nonetheless, I made the most of the morning out and soaked in the little that Universal Studios had to offer. One more thing ticked off the bucket list. With more time, I might have enjoyed this more but being highly strung didn't do me any favours.
Adhering to our strict timetable paid dividends, as we checked in at our hotel and comfortably made it to the Ecopa Shizuoka Stadium with a fair bit of time to spare. Compared to the contrived and frivolous attraction that was Universal Studios, this rugby match felt like a far more authentic experience and one that I could truly enjoy – even alone. Bucket list stuff.

Watching the Boks take on Italy in a Rugby World Cup match was one of those crystallising moments. Surrounded by thousands of people here to enjoy the same thing, I was reminded by the uniting power of sport, the intangible spirit of optimism filling the air.

In all honesty, I was pretty highly strung for most of this day. It's difficult to immerse yourself in an experience when you're constantly worrying about getting to your next stop. I think that's what's made most of my trips this year enjoyable. As testing as this bucket list day was, it brought home just why this trip meant so much to me.
The next day would see us catch yet another train (this one headed for Tokyo) where we would be staying for five days before I headed back to Osaka.

A few concluding thoughts on this first leg of travel in Japan:
My frame of reference going into this trip was squarely focused on Korea and my knowledge of travel here. I was enamoured with the fact that the Japanese use of space is so considered. If Hong Kong is a glimpse into a dense urban dystopia, then Japan runs counter to that. Everything is immaculately laid out and spaces are tailored to their purpose. Nothing is too big or too small. The streets are decidedly commuter friendly, one of the hallmarks of a highly developed nation. Bicycles abound. I think I treasured this trip because of the romanticism that's associated with Japan. It's almost as if Japan is etched into travel folklore, and that was certainly the sense that I got as soon as I landed.

If you enjoyed this article, sign up for monthly updates as I post travelogues about my trips throughout East and South East Asia, along with videos around street and travel photography.