Monday 6 May was second-last day in Taipei and there were still two attractions which I hadn't seen; the Chiang Kai Shek Memorial Hall as well as the Taipei 101. CSK was far more grand and overpowering than I'd imagined; a huge, cavernous chamber which houses a monolith of the general Chiang Kai Shek.
From Wikipedia:

The National Chiang Kai-shek Memorial Hall (國立中正紀念堂) is a famous national monument, landmark and tourist attraction erected in memory of Generalissimo Chiang Kai-shek, former President of the Republic of China.
The steps from the Hall lead out onto a sprawling plaza, where you'll see the National Theatre and National Concert Hall on either side. The front gate too, is quite stunning, so there's definitely lots of opportunity to capture some creative shots here. I was also quite lucky to capture the soldiers performing a salute. With CSK Hall done, I went on to my next stop; the Taipei 101.
The Taipei 101 held the title of the world's tallest building in the late 2000s, only to be usurped by the Burj Khalifa in Dubai. The design, as many have noted, looks like noodle boxes stacked atop one another. A fitting metaphor for a food-crazed country.

I avoided the temptation to go into the building (the exorbitant entry free doesn't justify the views in my opinion anyway) and instead looked for locations from which to shoot images of it. The main road leading to the Taipei 101 and the heart of the financial district is Xinyi Road. Unfortunately the rain persisted so I didn't get to explore as much as I would have liked, but I still got a few shots of the iconic building.

To pass the time, I went to the Core Pacific Mall, a nearby shopping mall which apparently housed a movie theatre and selection of clothing shops. It was disappointing to say the least, the inside of the building showed its age – this felt like a relic in comparison to the ultramodern malls of other Asian destinations. It was dark, dingy, and lacking in choice. A few big name clothes stores here and there, but barely any foot traffic to speak of, and it just felt dead.

After lunch I went back to the hotel to relax for a little while before setting out on my next mission; Elephant Mountain. This was essentially a continuation of my morning's mission to capture the Taipei 101. I caught a bus which stopped within 100m of the trailhead and made the trek up. I'd read about a few different lookout points but was told that the best lookout point is the last one of the three.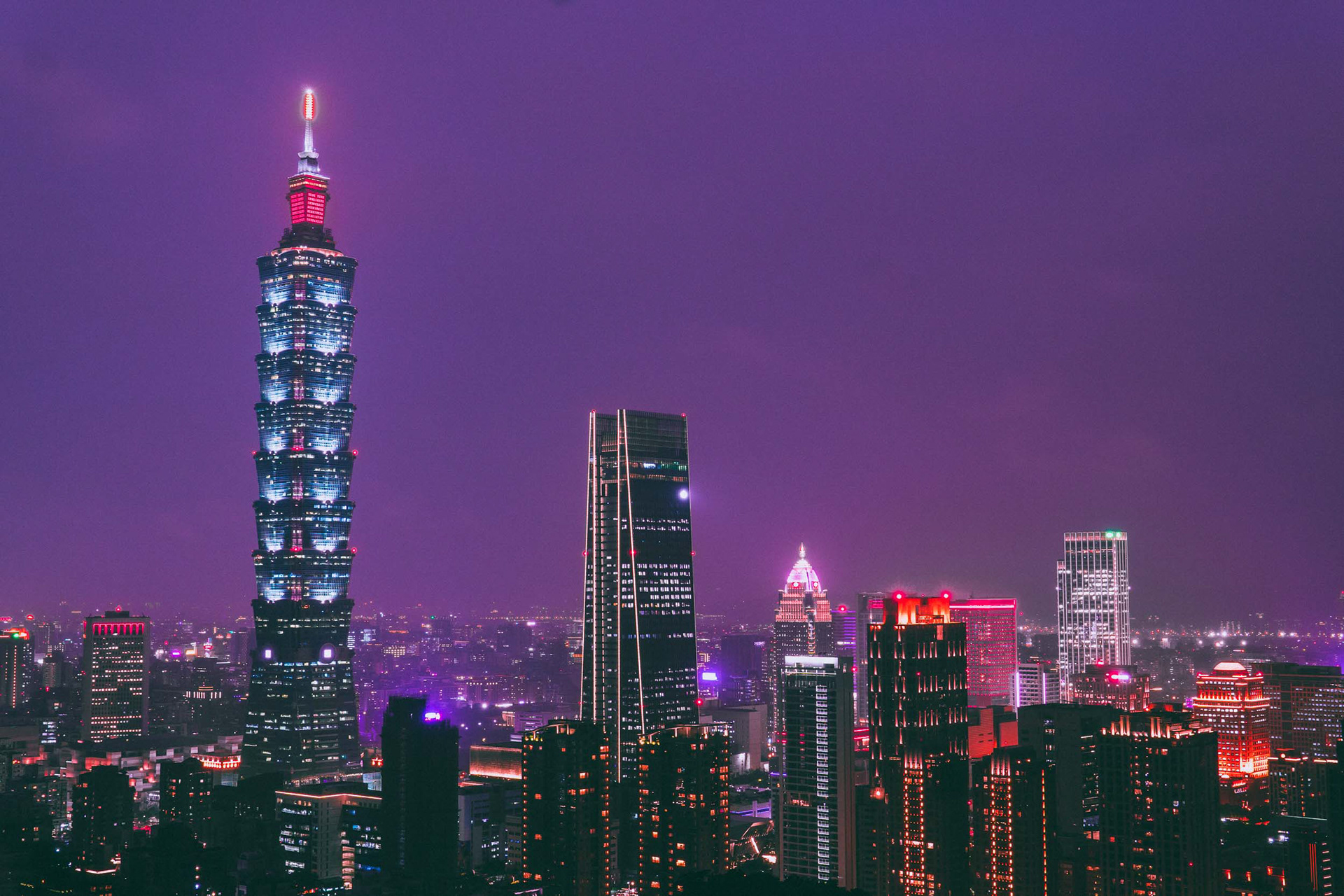 My plan was to capture the sunset, but with the low, dense cloud cover over most of the city there wasn't much of a sunset to speak of. What was quite impressive, however, was the view of city and the Taipei 101 as the lights illuminated the cityscape. Using my mini tripod and Sony A6300 with Sigma 30mm f1.4, I was able to capture some crisp long-exposure night shots of the Taipei skyline. Satisfied with my haul, I floated around the streets of Xinyi before catching a bus back to Datong where I savoured some craft beer at BeerAmmo, a bar with apparently more than 300 craft beer variants.
The final big ticket item on my Taipei bucket list was visiting a night market. Shilin Night Market and Raohe Night Market are Taipei's two foremost night markets, but as I was pressed for time, I decided to visit the far smaller Ningxia Night Market, not far from where I was staying. What started out as a photo-taking mission very quickly became purely exploratory, as the incessant rain precluded me from taking my camera out. Instead, I snacked on the famed oyster pancakes, smelling the vile odour of stinky tofu wafting through the streets. I felt fairly good about what I'd managed to accomplish, vindicated in my decisions to persist despite the dodgy weather. Hopefully when I go back, there'll be more sun.
Tuesday marked my final day in Taipei, and there was no respite from the rain. Despite eating a ton of dumplings, spring rolls and shrimp fried rice, there was something else that I was craving. Enter the Chinese breakfast.

This hearty meal consisted of eggs rolled in pancakes, dumplings and radish cakes. I found a breakfast spot nearby my hotel and washed down my Chinese breakfast with some delicious, sweet, milk tea. It was then back to the hotel for a quick shower and checkout, before I stowed my bag at the Taipei Station lockers. For my final bit of retail therapy I decided to find a Decathlon branch to purchase a few athletic odds and ends. There was also a pair of running shoes that I procured at the Adidas outlet in Ximending, as well as a few savoury souvenirs for my co-teachers in Korea.

Timed to perfection, I caught the MRT heading to the airport and made it just in time to board my flight. Just shy of two hours later, I was treated to a magnificent sunset as we touched down on the sleepy coastal airport in Muan, South Korea.
In
Part 1 of these travelogues
I wrote about comparisons. And for much of my trip and the days after, that's all I did; compare. The problem is, comparisons arise when you have expectations. Expectations are the killer. I expected Taipei to be something that it wasn't. After a few days reflecting on my time in Taiwan I very quickly realised that it's impossible to expect every destination to live up to standards set by other places. And that's completely fine. I could choose from any one of the hackneyed travel superlatives to describe Taiwan, but for now, I'll remember it as unassuming on the surface, with a whole lot to offer if you scratch a little bit deeper.