Saturday 28 October

Our mission for Saturday was simple – jump on Tram 28 and explore the old-town Lisbon district of Alfama. What we hadn't banked on was just how over-crowded this particular tram line would be. Questioning whether or not it was worth the wait, we chose to instead take a tram towards Belem, which was close to our lunch destination.
For some reason, although more modern, the tram to Belem had no airconditioning or ventilation, whatsoever. From the rough night that I'd had, this wasn't helping my cause...
We continued our walk towards the Belem harbour, where I had planned out today's team lunch.

As a pleasant surprise, we stumbled upon the LxFactory, an historical industrial complex which houses an array of arty retailers & unique restaurants, before settling down at our lunch spot, the Doca de Santo, alongside the Belem quay.
Now, I have to be brutally honest about Portuguese food – or at least my impressions of it from this trip.
It's bang average. Although very well prepared, it lacks the rich flavours that I had expected.
After lunch, we Uber back to Doorm and decide on plans for the scorching afternoon, with temps upwards of 30 degrees Celsius.
Myself, Keza, Nicole and Dave find ourselves at the Holiday Inn in search of a pool. At around 50 Euro, it seems a bit exorbitant, but this is the price to pay to find respite from the heat. We're later joined by SJ and we take in some drinks while watching the sun go down on the city.

Our final supper for the evening is a short walk from Doorm. Here, we each take from one of the many sharing boards; a selection of duck, lamb and various tapas. Having already had one big night out, I decide to head home while my colleagues put in one last hurrah on their final night in Lisboa.

Sunday 29 October

It's the final day of what feels like a whirlwind tour.
I wake up early in the morning to run – after three consecutive days of walking, my legs feel like lead, but I manage to clock about 14km, heading out east along the promenade and then inland towards the suburbs, coming down the main road that leads into Baixa/Chiado.
Even with the limited amount of travelling that I've done, I still maintain that running is the best way to truly get to know a city, second perhaps to cycling or renting a scooter. The sunrise greets me along my run, as I pass the city plaza, the harbour, and the Alameda Dom Afonso Henriques – three large sweeping fields, each a hectare in size, that were built in honor of the first king of Portugal, D. Afonso Henriques.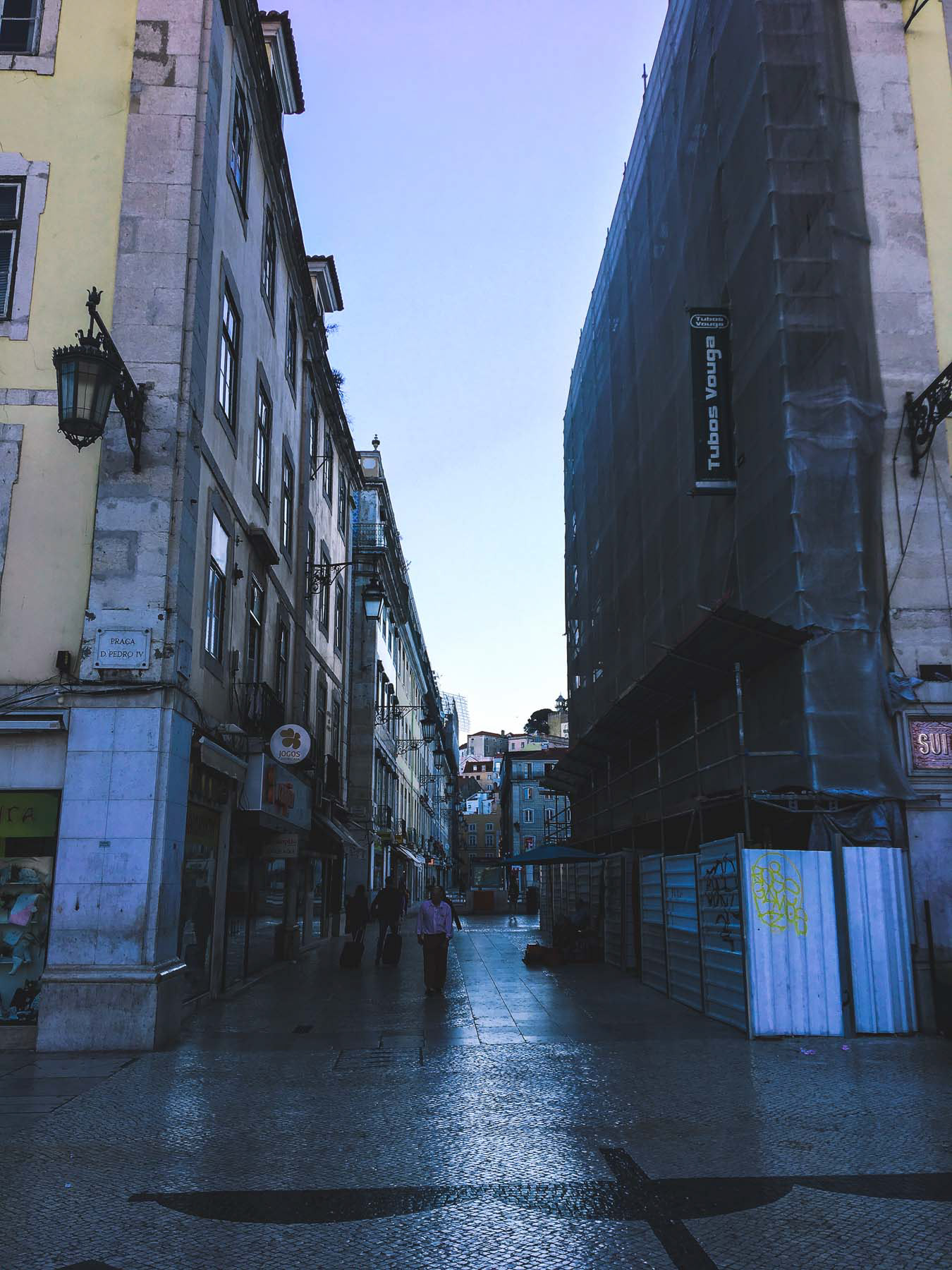 After breakfast, we store our luggage at Doorm, check out and then go shopping.

Shopping is the order of the day – we kick off by visiting Primark Colombo and then Ubering to the Vasco da Gama shopping centre. How do they compare to SA malls, you ask? Pretty much on par, with no real difference in size or scale. I manage to do some sweets and souvenir shopping for friends and family at the Continente supermarket at Vasco da Gama.
After a fruitful shopping expedition, we pick up our luggage and make our way to the airport in good time. With everyone checked in, we take a slow amble through the departures hall to the immigrations counters. The trek awaits us. Fortunately this time our layover in Luanda isn't as long.
After our 4-day 'blitzkrieg' mission, it's tough to make any real, solid assessment of Lisbon as a destination. Would I go back and spend more time in this city where the old world converges with the post-modern? Perhaps – European destinations are still notoriously expensive and Lisbon isn't immune from this. Having said that, there certainly is a mystical charm about the place, especially when you step out of the metro and into the cobblestone streets of Old Town Lisboa...